An other meme i've taken from Crody. Lots in things you don't really need to know about me inside. Fun, fun, fun! Allow sneaky Gerard to lure you in!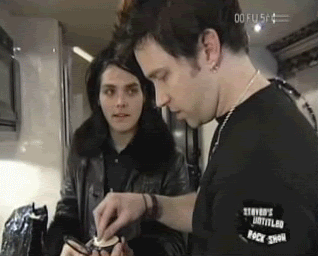 1) What song(s) are you currently addicted to?
For the First Time- The Script *shame* actually no shame, i love that band!
2) What was the last movie you saw?
sneaky question, last film i saw dans la cinema was Scot Pilgrim vs the World but that last film i watch was, oh Lord forgive me, Batman: Under the Red Hood, that i, being hardcore, illegally watched online ;) yes that is a animated film. *no shame*

3) What's the last TV show you watched?
The xtra factor..it think
4) What are you doing right now?
wtf writing this, stupid question is stupid!
5) What's your current fandom/obsession/addiction?
Batman bb!!! and Christian Bale :P
6) What's one thing you miss about being a kid?
Being able to say/ do crap and not get judged for it
7) What side of the bed do you sleep on?
right, it's closest to the wall so i feel safe :)
8) What was the last thing you bought?
Joker poster! i am awesome!
9) What's your favourite thing you've bought recently?
didn't you just see what i wrote? i just bought a mother flippin Joker poster! oh and also the comic Arkham Asylum; A Serious House on Serious Earth 15th Anniversary Edition. I almost prefer just reading Grant Morrison's notes/ transcript than the actual comic.
10) If you could speak any language (including that of animals, plants, rainbows, whatever floats your boat), what would it be?
probably being able to talk to insane peeps would be cool, i know thats not really something that you could do, but i'd like to be able to understand them and to know exactly what to say to them. That or Japanese lol
11) What do you do when you're in a bad mood?
listen to agressive music, sulk, be a dick to people. the usual
12) What was the last meal you ate?
cheese and ham toastie at school :P
13) Current OTP?
Batman/ Bruce Wayne / Joker :P just as delicious as that toasie
14) Five things you can't live without.
I'm taking this as not literally other wise that'd be boring. Laptop, make-up, pervy mind, hairspray, my friends :)
15) Find the closest book currently sitting near you and flip to page 45. What is the first sentence of the second paragraph?
Do comics count? it's the only thing to hand right now so....
"suddenly Maxie turns to look at us and we realise to our horror we're not invisible after all"
Arkham Asylum: Serious House on Serious Earth 15th Anniversary Edition
16) What's something you'd like to say to someone right now?
shut the frigg up and move schools
to some girls who's really annoying and mean in my year. won't say who it is so don't ask ;)
17) What are you looking forward to?
MCR in october!! :D :D :D :D :D :D
1
8) What is playing out of your speakers, right now?
foolish fool! this is the same answer as number uno!!!
19) Ask me a question in a comment and I shall reply...
wut iz dis?
1. What time did you get up this morning?
6:45
2. How do you like your steak?
well friggen done :P
3. What was the last film you saw at the cinema?
Scott Pilgrim vs. The World
4. What is your favorite TV show?
er........Sherlock? idk i can't think right now

5. If you could live anywhere in the world where would it be?
England, somewhere rural but near a big city
6. What did you have for breakfast?
Weatos :P
7. What is your favorite cuisine?
wut? British..i think, i don't understand the question *shame*

8. What foods do you dislike?
too many to name bb
9. Favorite Place to Eat?
wtf????!?!?! next to ur mum, person writing these redic questions!
10. Favorite dressing?
Cesar salad dressing
11.What kind of vehicle do you drive?
the spaz mobile
12. What are your favorite clothes?
idk shizz that can make me look good (i.e everything jk jk)
13. Where would you visit if you had the chance?
Christian Bale's house when he's home alone ;) ;) ;) and preferably showering
14. Cup 1/2 empty or 1/2 full?
empty inside, outside full
15. Where would you want to retire?
English countryside.
16. Favorite time of day?
dust/ twilight (ugh) to night time

17. Where were you born?
Jersey, Channel Islands
18. What is your favorite sport to watch?
sex ;)
19. Who do you think will not tag you back?
what is this question asking, not cool enough to know?
20. Person you expect to tag you back first?
ur mum when we're finished
21. What have you done this week to help another person?
gone into school cuz it made everyone happy again ;)

22. What is your favorite scent?
Christian Bale's musk....too much?

23. Bird watcher?
if by birds you mean foxy women then yes i am ;)
24. Are you a morning person or a night person?
night person, actually middle of the day person
25. Pets?
no they are too much hassle
2
6. Any new and exciting news that you'd like to share?
i'm pregante with emotion

27. What did you want to be when you were little?
lawyer cuz i wanted the cash
28. What is your best childhood memory?
idk spending time with my childhood bff, Hermione
29. Are you a cat or dog person?
do you mean which do i least want to be eradicated by evolution? i'm going to say...dog
30. Are you married?
to my JOB!!
31. Always wear your seat belt?
yes unless cba....to live
32. Been in a car accident?
yes...sorta, i got whiplash
33. Any pet peeves?
annoying people, hipsters
34. Favorite pizza topping?
Pepperoni :P
35. Favorite Flower?
Roses, not original enough for ya? well then fu
36. Favorite ice cream?
Ben & Jerry's
37. Favorite fast food restaurant?
KFC no question
38. How many times did you fail your driver's test?
ageist comment
39. From whom did you get your last email?
apple store :'(
40. Which store would you choose to max out your credit card?
ur mum's sex den, that or Forbidden Planet
41. Do anything spontaneous lately?
yes i shot a guy for looking at me funny
42. Like your job?
no, being a crack whore has it's down sides

43. Broccoli?
i'd love some thank you kindly Mr meme person
44. What was your favorite vacation?
3 years ago my fam and i went to france when the 5th harry potter film and 7th book came out and we all went crazy with harry potter fever!

45. Last person you went out to dinner with?
jfc i can't remember, oh probs my sis cordy, our friend Laura and my mum
46. What are you listening to right now?
STFU AND LOOK AT No. 1
47. What is your favorite color?
red/ bright green/ purple/ blue....or maybe i've just been looking at the Joker for too long.
48. How many tattoos do you have?
none cuz the pain is too much to deal with
49. How many are you tagging for this quiz?
no. one
50. What time did you finish this quiz?
5:09 pm
Current Location:

my room

Current Mood:

apathetic

Current Music:

the script- for the first time